Written by Vivien Nguyen
'A father and his son are in a terrible accident. They are rushed to the hospital in critical care. Unfortunately, the father passes from his injuries. However, the son needs to be operated on immediately. The boy is taken into surgery. The surgeon looks down and exclaims "I can't operate on this boy, he's my son!" How could this be?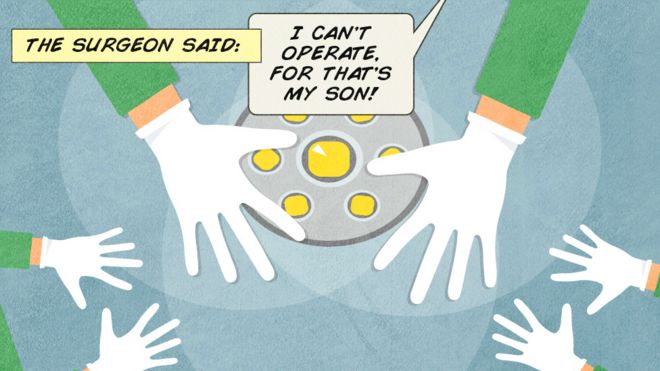 You might've seen this old riddle before. I sure had. But when I watched this Ted Talk by Alexis Kanda-Olmstead, I was at a loss for ideas. Of course, the surgeon was his mother! Why was it that I was coming up with reasons to justify that it could somehow be his father?
The riddle was a part of a research project conducted by Mikaela Wapman and Deborah Belle, studying how we create mind models associating professions with a specific gender. They found only 14% of Bond University Psychology students and 15% of children aged 7-17 could come to the correct answer. Wow! The students had come from privileged, educated and higher income backgrounds and many of the surveyed students were young self-proclaimed feminists. So, what does this study teach us about how our minds have been programmed? What impacts does thought process have on women climbing the corporate ladder? And what can we do about it? 
Did you know:
The first legislation surrounding women's rights in the workplace passed in the 1980s. The Federal Sex Discrimination Act passed in 1984 and the Affirmative Action (Equal Employment Opportunity for Women) Act was passed in 1986. Only 35 years ago!
Under this legislation, a company can be fined up to $100,000 in NSW (the fine is not limited in other states) as compensation for discrimination or harassment complaints.
The Commonwealth Equal Opportunity for Women in the Workplace Act 1999 states that all employers with 100+ employees and tertiary education institutions must enforce an 'affirmative action program' to promote equal opportunity for women. They must report these statistics annually to the Equal Opportunity for Women in the Workplace Agency.
Women comprise 46.9% of all employed persons in Australia. (ABS 2019, Labour Force).
Women constitute 37.0% of all full-time employees and 68.5% of all part-time employees in Australia. (ABS 2019, Labour Force).
Superannuation amounts for women at the age of retirement (60-64 years) are 42% lower than men of the same age.
In 2018, only 0.9% of boards or governing bodies had no male directors, whilst 35.25% had no female directors (WGEA 2018, Australia's Gender Equality Scorecard).
The ASX 200 has reached an all-time high of 29.7% of female directors, in 2018. (AICD, 2019).
The statistics, despite having improved in the last 5 years, shine a light on the realities of women in the workplace in 2019. At first, I didn't know where to start breaking down the myriad of factors playing a part in this issue of women in leadership. Starting from the root of what separates this issue, is gender and our understanding of it.
Mind models
At the core of mind models, are the invisible limits we place on ourselves and others with our words and connotations. The concepts surrounding gender specific words and ideas held in societies' collective consciousness can be so deeply engrained that the presence of bias in our actions might not register with us at all.
There are lists of attributes that have been socially attributed to male gender. Leadership, control, assertiveness, domination. Even as children, we associate this shown behaviour in a young boy and project a life where he will grow up to be strong, traditionally attractive 'hero'. This is only affirmed by the overwhelming amount of men in positions of leadership. It is not uncommon and as a society encourage it from childhood. Society doesn't second guess why a certain male is elected or hired into executive roles. However, often when women are given roles of power, we scrutinise them. Whether it be their experience, appearance or personal lives.
These issues are never spoken about because as a society, there is some degree of association between a woman's purpose and domestic activities. In the case of Jacinda Ardern, Prime Minister of New Zealand, she has demonstrated a melding of two powerful sides of womanhood, her ambition in career and family throughout her term. Ardern's ascent and time as Prime Minister, has seen some of her key moments splayed across international news for global media to discuss. Her birth whilst in office has shown Ardern as a mother, caring and genuine, whilst being a capable world leader at events including the UN General Assembly. Her extraordinary response to the Christchurch killings have been universally praised for her transparency, against white supremacist terrorism as well as her compassion towards the Muslim community in New Zealand. Arden demonstrates pure leadership unhindered by the mind models of society.
Hopeful for the future
The one thing I hope for you to take away from this article is a new perspective. A perspective that changes how you view yourself, the people around you and the people whose experiences have been severed from the start. As Deborah Belle says, 'Eternal vigilance' – that is the only solution.
Change in a society may happen at a glacial pace, but with the vigilance and social awareness we hold, it will become a reality for at least our children and future generations.
If you or anyone you know is facing an issue in the workplace, contact the following government board:
The Anti-Discrimination Board of NSW
Enquiries
Phone (02) 9268 5544
Email: adbcontact@agd.nsw.gov.au
Complaints
Phone (02) 9268 5544
Email: complaintsadb@agd.nsw.gov.au
Telephone interpreter service
Phone 13 14 50
Website
antidiscrimination.justice.nsw.gov.au
Sydney Office
Level 4, 175 Castlereagh Street, Sydney NSW 2000
PO Box A2122, Sydney South NSW 1235
Phone (02) 9268 5555 Fax (02) 9268 5500
TTY (02) 9268 5522